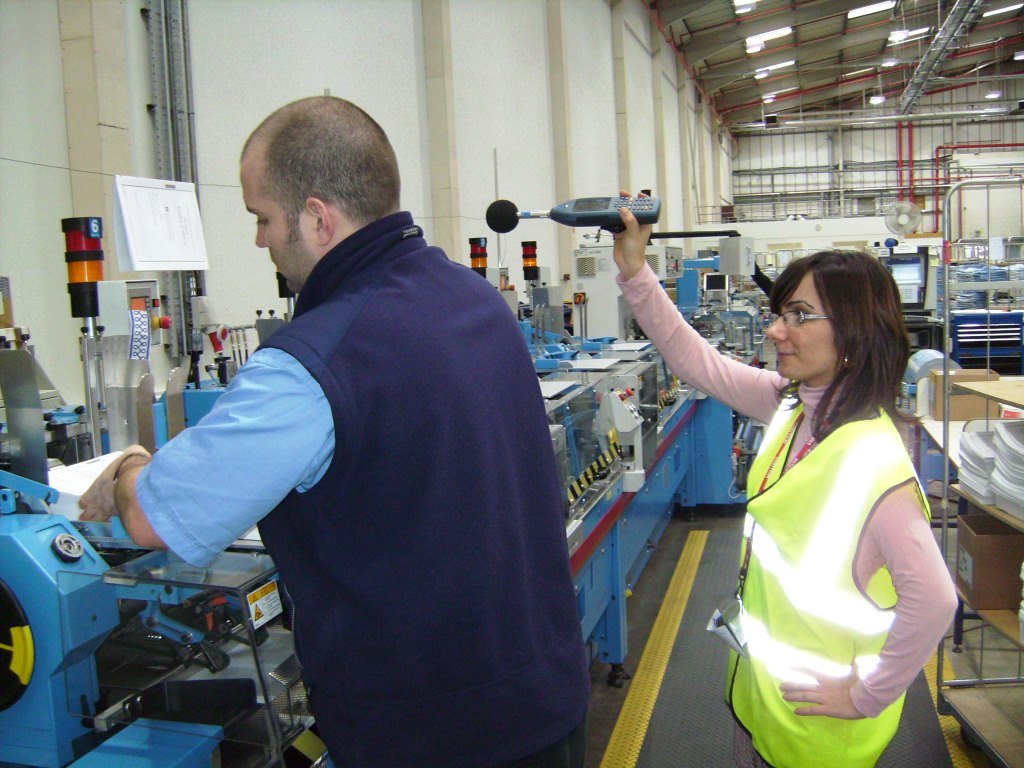 You could quite easily have issues with health and safety that you don't know about and the only way to improve your work environment is to carry out a risk assessment of everything of significance. But what is significant?
A thorough risk assessment will identify every possible Hazard (something with the potential for harm or danger) that could occur in your workplace, together with an estimate of the Likelihood of an incident. This allows any potential risk from activities that are undertaken in your workplace to be logged so they can be fixed before anything happens.
For each Hazard identified, you should assign a Hazard Severity rating i.e. non-injury, seven-day injury or less, over seven-day injury, major injury or death.
For each hazard you should then assign a rating for the Likelihood of an incident i.e. remote, unlikely, possible, likely or certain/near certain.

The overall risk rating is calculated by multiplying the Hazard Severity by the Likelihood of an incident i.e. Low risk, Moderate risk, Significant risk, Severe risk or Catastrophic risk. This scheme can also use a simple summary colour code of Red, Amber or Green.
Risk assessments are vital in identifying the health and safety standards of a company. You have to ensure that you cover your worker's safety and your business's legal responsibilities.
Take care when someone says they will use their common sense to stay safe, as this has resulted in numerous accidents.
We can provide you with a checklist to help you assess if you have a suitable risk assessment system in place.
Fire

Every employer should undertake a fire risk assessment as required by the Regulatory Reform (Fire Safety) Order 2005. Fire is an ever present hazard in every workplace and at home as well. Disasters remind us of the terrible danger of fire.
First Aid
The relevant legislation is the Health and Safety (First Aid) Regulations 1981 which are still in force although the guidance for first aid training has been thoroughly overhauled.

Our assessment establishes your first aid requirements and level of compliance.

Pregnant Worker

Where the workplace includes women of childbearing age and the work could involve risk to the health and safety of the new or expectant mother or her baby, the assessment must include this risk.

Young Persons

Employers should take into account that young persons are likely to be inexperienced, unaware of health and safety risks, and be physically and/or mentally immature.

A "young person" is defined as any person who has not reached the age of eighteen and a "child" is defined as any person who is not over compulsory school age.

Display Screen Equipment (DSE)

All persons spending a significant time on computer or other display systems should undertake a Display Screen Equipment (DSE) workstation assessment as required by the Health and Safety (Display Screen Equipment) Regulations 1992 as amended. Here we look at discomfort in the lower back, neck & shoulders and the hand, arm & wrist together with causes of visual fatigue, general stress and headaches.

Lone Working

The Health and Safety at Work Act 1974 places a general duty on employers to ensure, so far as is reasonably practicable, the health, safety and welfare of all employees. Employees also have responsibilities to take reasonable care for their own safety and that of others who may be affected by their work. Risk Assessments for lone workers under the Management of Health and Safety at Work Regulations 1999 should be as any other risk assessment, suitable and sufficient, and should ignore trivial risks.
Road Risk and Driving

Our risk assessment can be used to help ensure the safety of all your staff who drive for business purposes. A Driver Safety Policy should be created before making this assessment.

Any vehicle can be assessed including a company vehicle, private vehicle, hired vehicle or motorcycle.

Workplace Heath & Safety

The Workplace (Health, Safety & Welfare) Regulations 1992 as amended by The Health and Safety (Miscellaneous Amendments) Regulations 2002 require suitable workplace conditions be provided. If you require a workplace risk assessment this adopts a highly specific legal focus on worker safety and welfare issues.

Personal Protective Equipment (PPE)

The Personal Protective Equipment at Work Regulations 1992 as amended 2002 require that the provision of Personal Protective Equipment (PPE) is a last resort. Employers should ensure that PPE is provided except where the risk has been adequately controlled by other means which are equally or more effective. This is because PPE protects only the person who is wearing it, whereas controlling the risk at source can protect everyone at work. PPE is also rarely as effective in the real world as the literature indicates with a protection factor.

Work At Height

The Work at Height Regulations 2005 apply to all work at height where there is a risk of a fall liable to cause personal injury. Work at Height means above floor level. It should be noted that there is considered no safe height at which precautions may be relaxed and sadly one fatal accident occurred where a worker fell from less than two feet above the floor.
Noise
Noise is controlled by the Control of Noise at Work Regulations 2005. The regulations cover all types of noise generated at work, for example, building work and maintenance. The music and entertainment sector was included in the new legislation.

Our noise risk assessments help you eliminate or control noise.

Office Safety

Offices generally have a lower frequency of accidents and ill health than many other work environments, but the risks are still significant and must not be ignored.

Risk assessments should consider all people who may use or visit the offices including visitors and members of the public as well as employees.


Work Equipment

The Provision and Use of Work Equipment Regulations 1998 apply to any equipment which is used by an employee at work.

The assessment should ensure that the risks created by the use of the equipment are eliminated where possible or controlled.

Call us on
01708 226874
For details of more risk
assessments we can supply.
Arson
Arson or "wilful fire-raising" is a very real problem and may be caused by attempts to conceal crime, insurance fraud, mental health problems, revenge or youth disorder.

What can be done to protect your workplace?
We suggest an arson risk assessment is completed.

Disability
Employers should consider anyone in the workplace with a physical disability and those with Neuro-Diversity under the Equality Act 2010. Disability means "a physical or mental impairment which has a substantial and long-term adverse effect on a person's ability to carry out normal day-to-day activities". The Equality Act covers existing disabilities, fluctuating disabilities and past disabilities.

Chemicals and COSHH

Substances hazardous to health which are used or handled at work should be assessed to ensure the safety of your employees and anyone else in the workplace. The relevant legislation is the Control Of Substances Hazardous to Health Regulations 2002 (COSHH) as amended.

Ligature Point Risk (Specialist Hospital Safety)
Our ligature risk assessment is a specialist safety service for acute psychiatric hospital units and sanctuaries for the suicidal. To reduce the risk of a disturbed patient harming themselves by using a ligature, we carry out an audit of every area of the workplace which is accessible to service users.

Every possible ligature where a robe, lace, sheet or other attachment could be used, is listed and then analysed for its risk level. Each ligature is assessed for:
Ease of attachment of ligature

Likelihood of ligature remaining in place
A numeric risk algorithm is used to generate a prioritised action plan for removal of the worst ligature points thereby increasing patient safety. The relevant legislation is the Management of Health and Safety at Work Regulations 1999.
Home Working

Many employers recognise the need to maximise the efficiency of both capital and human resources and that home working arrangements can help to achieve this. Home working can be a sensible and practical alternative to office based working. Home working staff may fall into three categories: Staff who work from home (field-based staff), staff who are based at home (home-based staff) and staff who provide "on call" cover out of normal office hours.
Night Working

Night time means a period not less than seven hours and includes the period between midnight and 05.00 a.m.

A night worker means a worker who as a normal course works at least three hours of the daily working time during night time.